*LIVE STREAM* Jeffery Straker Saturday December 5 2020 at 7:00 PM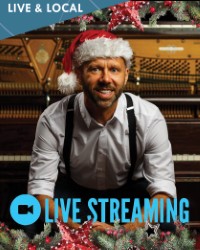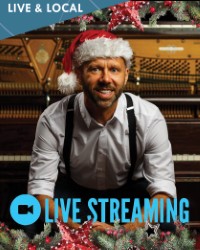 You've selected
Saturday December 5 2020 at 7:00 PM
×
A holiday-themed evening with Saskatchewan's own award winning singer-songwriter-pianist Jeffery Straker.  Bring a friend, wear an 'ugly' Christmas sweater, and get into the festive spirit.  Classic and contemporary Christmas songs, story-telling and maybe even an audience sing-along (pending COVID-restrictions).  Sold-out 3 years running at the Casino Regina Show Lounge. ​ "Some of my favourite memories of Christmas times growing up are about the music," says Straker. "People gathered around the piano, singing carols late into the evening with a glass of cheer.  I hope to bring a bit of that musical Christmas magic to the stage with this concert." ​ Jeffery Straker tours over 100 shows across Canada, Europe and Latin America each year.  He's recorded for CBC Radio's Canada Live, had a music video in the top 10 in Canada, and has had his music used in TV, movies and theatrical productions.  His tour stops range from intimate house concerts to club & theatre shows and include recent sold-out performances with symphony orchestras.  Critical comparisons have been made to the likes of Kris Kristofferson, Billy Joel, & Harry Chapin while The Chicago Free Press has written: "Rufus Wainwright, as well as k.d. lang are among the Canadians making essential and beautiful music. Add the name Jeffery Straker to that list." ​ His 2017 album "Dirt Road Confessional" debuted at #5 on the iTunes Canada singer-songwriter charts, and received airplay on both CBC radio 1 and 2 across the country.  His recent debut at Canada's National Arts Centre in Ottawa, was followed by performances across the Netherlands.  Jeffery won a Western Canadian Music Award in 2019, & will be releasing a new album in 2021. 
Venue
E A Rawlinson Centre for the Arts
142 12th Street West
Prince Albert SK S6V 3B5
Performance Notes
Pay What You Want! Choose from 5 options to support this performer, ranging $10 to $50. ($50.00 Recommended for Large Groups) Showtime is 7:30pm but a stream will start at 7pm so you know you're in the right place.
×
This is a festival seating performance - the seats are on a first come, first serve basis when you arrive at the theatre.
Doors open 1/2 hour prior to start of performance.