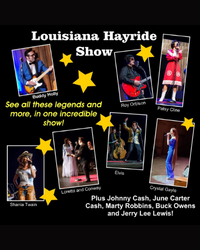 Louisiana Hayride Show
When
Occurs on Sunday April 16 2023
Approximate running time: 2 hours
Venue
Event Notes
×
Take a trip down memory lane with this unique and incredibly entertaining musical spectacular. The Louisiana Hayride Show, complete with studio stage set, amazing tribute artists and live band will bring you back in time to when songs were meaningful, the words were understood and the sound was pleasant.
Since its first production in March 2010, the Louisiana Hayride Show has been bringing world class entertainment to audiences across western Canada. This show is definitely based on great music but there's so much more! You'll laugh at the antics of the artists and you'll love the interesting bits of information about the legends and their songs.
For those who have seen this production before, the Louisiana Hayride Show is always adding new and fun material to keep you surprised and totally entertained from start to finish.